Things to consider when choosing the right feather flag
Feather flags are a simple, convenient and versatile way to help brands stand out and can be used in almost any location both indoors and outdoors. Feather flags are one of the most popular choices for businesses when it comes to a cost-effective display for their brand and are available in a wide range of sizes, shapes and styles. With so much choice, choosing the right feather flag can be tricky. Simply follow this 6 step guide and you can't go wrong.
1.Which Shape is right for me?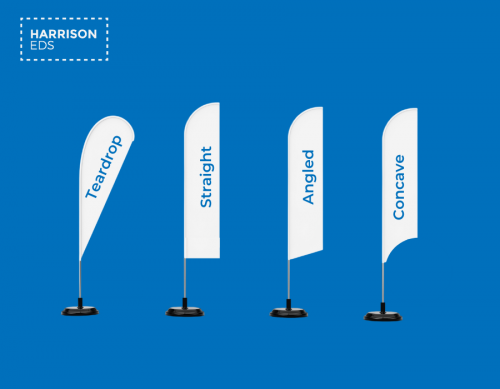 There are essentially 3 types of shape to choose from and then some minor variants in style on those shapes.
5 years ago the most popular type of event flag was the rectangle shaped print as seen here.  This is the only pole kit which has a cross arm. These flags are still quite popular at trade shows, particularly outdoors but have been usurped as the most desirable by variations of the Blade.
The name "feather flag" is most apt for this flag shape and there are 3 main styles:
Straight – a straight cut at the bottom and by far our most popular style
Convex – the cut at the bottom bends out like the bottom half of a circle
Concave – the cut at the bottom bends in like the top half of a circle – this style is not popular, perhaps due to some of the print area being lost but it doesn't make it cheaper as the same amount of material is required to run through the printer.
The other popular choice is the dewdrop flag which is also commonly known as the teardrop flag but is one and the same thing.  This style of flag is ideal if your logo is round and/or if you have very limited space where the feather flag is to be located as there isn't as much material taking up room – ideal for outside a small cafe or on a tight exhibition stand.  This shape looks great on our event gazebo flag bracket which gives extra height and movement in a crowded event space.
2.Which size?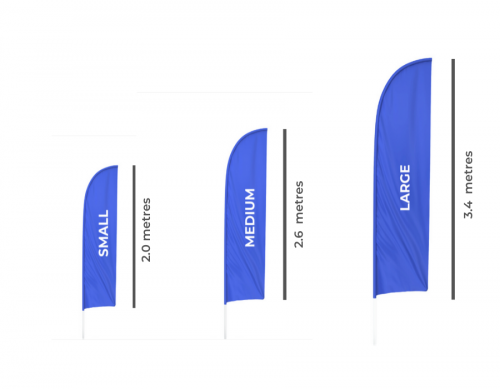 Size really does matter and it can be tempting to go "extra large" but you really need to consider this carefully as even a large flag is a substantial size as you can see below.  Our most popular sizes are small and medium and not just because they're less expensive but because for most applications, including most large events, they are big enough.
3.Which flag base do I need?

We offer a wide variety of quality bases and the main consideration here is where your feather flag will be situated.  So here is a helpful table to aid you in making the right decision – these are our recommendations. Please also note that all of our bases are interchangeable with all of our feather flag pole kits meaning that if you wish to change the location of your flag or would simply like a different base, you can buy a new base without having to replace the whole product.
Please note that we do also offer a cross base but the circular base is much better suited for indoor use as it is less of a trip hazard and more aesthetically pleasing.  You can also use our cross base with our stackable concrete base for additional stability in particularly gusty areas. Find out more about our base options here.
4.Single or double sided design?
This subject can be confusing for those not familiar with flags but the majority of feather flags are printed single sided with intentional 'show through' meaning you can see a mirror image of the print on the back of the flag.
Our feather flags all spin 360 degrees on a spigot that is mounted to the base which is why some people refer to them as 'windchasers'.  This of course can mean that depending on outdoor conditions your feather flag could be facing the wrong way for a period. But – depending on the complexity of your design the majority of  your audience will still see the desired message but simply reversed.
We actually recommend single sided flags for the majority of applications but if you really want a double sided flag we will print it with a 'whiteout' liner in the middle to help prevent the design showing through.  You also must be mindful that due to the extra weight caused by the additional fabric required there will be extra stress on the poles in stronger winds. So if in doubt – go for single sided.
5.What type of sleeve do I need?
Feather flags are commonly seen with elasticated sleeves like the one below.  These sleeves are usually black, white or chosen from a small range of stock colours. Not only does this approach compromise your messaging and brand but you also lose up to 7% of your print area. At Harrison EDS we pride ourselves on producing the best feather flags in the UK and all our feather flags are hand finished in our UK studio with a fully printed sleeve.
Another important note on sleeves is that all of our sleeves are reinforced at the end to stop the pole poking out of the end.  Many manufacturers don't bother with this approach but we won't put our name to anything less than a reinforced sleeve.
6.Does it matter what kind of material my poles are made from?
In short – yes. Our poles are a combination of heavy duty carbon fibre and glass fibre which means that they are very durable but also offer the flex required to provide movement and bend in the wind.  Some poles on the market do not offer this level of quality and performance, including some very low grade metal based poles which we strongly advise against.
So there you have it – these 6 simple steps will ensure that you when choosing the feather flags.  With so many different types to choose from , we've created this handy buying guide to take you step by step through your different options. The buying guide, along with these 6 questions should mean you end up with the perfect feather flag for your business. If you're still in any doubt then please contact us and we'd be happy to talk through your requirement and offer our advice.
Harrison EDS are specialists in banners, displays and flags for the automotive, retail and construction industries and are part of the Harrison Group of companies.