Environmentally friendly Exhibitions will help you stand out
Exhibitions, trade shows, expos and conferences in the UK attract over 13 million visitors each year, generating over £11 billion in spend (Business Visits & Events Partnership).
This ever-growing industry presents many opportunities to businesses and is clearly an excellent addition to any marketing strategy. As well as using exhibitions to meet new customers and re-connect with old ones, build brand awareness and launch new products, it presents businesses with a chance to spy on competitors and see where their focus lies and how they're reacting to the changing landscape of your industry – whatever industry that might be.
Once such reaction might be in response to the growing global concern of climate change and the impact that businesses as a whole are having on the planet. Becoming a more environmentally-friendly business is a great way to differentiate from the competition and stand out to prospective customers and, as the competition become more aware of the importance of operating in a more environmentally-friendly way, you don't want to get left behind.
With more businesses than ever before working hard towards a more sustainable way of operating, we believe the key to big results is to start small – and that's where we can help. We've put together 5 ways you can make your next exhibition more environmentally-friendly, helping you to make small changes that ultimately lead to you standing out against your competition for all the right reasons.
Choose quality products
You've heard the saying 'buy cheap, buy twice' and buying cheap is exactly the kind of false economy we want to help you avoid. Our Bravura portable display range is perfect for exhibitions large and small and is built to last. All of the exhibition stands in this range come with a handy carry bag meaning your stand can be easily transported and safely stored helping to minimise any potential damage and keep your stand looking it's best for future exhibitions and trade shows.
Replace the print and reuse your hardware
Many exhibitors opt for the traditional roller banner as a fail-safe option for a convenient, portable marketing display for their exhibition space. Whilst roller banners are convenient, they are often single-use and the standard options do not allow for a change in your display, meaning a whole new product is needed each time.
Our exhibition and event display range are all designed to deliver maximum marketing results with minimum environmental impact. All products in this range have easily replaceable prints, meaning you can change your display for each exhibitions or trade show you attend without having to purchase a whole new product. As well as that, the hardware can be reused again and again, meaning products such as our Fabric Display Stand, Wide Fabric Display Stand and Pedestal Display Stand offer you a significant long-term saving when compared to a single-use roller banner.
3. Consider environmentally-friendly exhibition products
 The exhibition industry has a stigma of not being environmentally friendly on the whole; it is an industry driven by the consumer with exhibitors continually adapting to a fast-paced market. We're changing this view of exhibitions – you can keep ahead of trends and exhibit sustainably.
 You have already purchased your Wide Fabric Display Stand with replaceable prints and recyclable frame, why not dress the rest of your space with some environmentally-friendly feather flags printed on our revolutionary material Enviroflag™? Enviroflag is made from recycled single-use plastic materials and has the same strength, durability and versatility as its knitted polyester equivalent but with a much lower environmental impact. This material can be used for all flags and feather flags.
 Free-standing or wall-mounted display boards offer you extra capacity to tell visitors to your stand more about what you do without taking up too much valuable space. We offer environmentally-friendly alternatives to Correx and Foamex – Bubble Board and Foamline™ respectively – that are both 100% recyclable and Bubble Board is made with up to 25% recycled content.
4. Recycle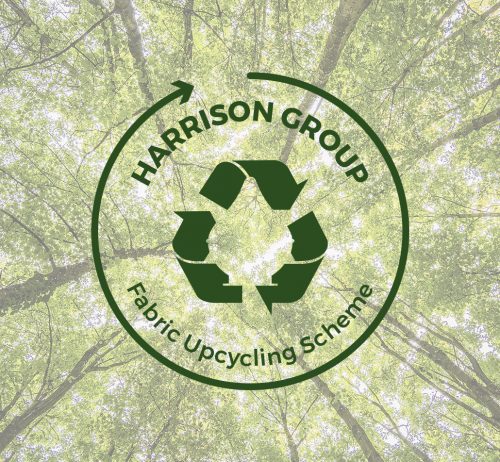 Consider the recyclability of your products once they reach the end of their life. Do they come from recycled materials? Can they be easily recycled? Are there any schemes in places to assist you in your company mission of becoming greener?
 All of our exhibition stands have aluminum frames, meaning not only has it been made from recycled aluminum, but it can also be easily recycled after use. We also offer a Fabric Upcycling Scheme whereby we transform all used flags, scrim and other fabric displays that are returned to us into useful items such as shopping bags and dog toys.
5. Choose wisely
 Even the small details matter when becoming more environmentally-friendly. LED light bulbs produce the same amount of light as a traditional halogen bulb but use 85% less power. Couple this with a light dispersing fabric for your stand to really give your display the wow factor.
Consider the transport of your stand, whilst a bespoke build stand can certainly look impressive and make an impact, they often require a specialist installation team with dedicated transport. You can still make sure your brand stands out using our range of modular and fabric display stand that fold away into a compact storage bag and can be taken with you in your vehicle, helping to minimise your carbon footprint without compromising on how your brand is presented.
To view our full range of products, click here. If you'd like any more information about our environmentally-friendly product options, please contact us on 01325 355433.
Harrison EDS are specialists in banners, displays and flags for the automotive, retail and construction industries and are part of the Harrison Group of companies.