When it comes to marketing your housing development, it's important to not only ensure your branded signage looks professional, but also that it's easy for your potential homebuyers to identify the new development from a distance and locate the entrance.
Installing high-quality flag solutions at your development will ensure you execute a professional image and get your new site noticed as early as possible, even before construction has begun. It should be a staple component to your outdoor marketing collateral.
Read our top four reasons why quality housebuilder flags and flagpoles should be part of your development's marketing to help you stand out from the competition.
Creating a positive experience and impression for homebuyers
Making sure your housing development is seen by potential homebuyers is crucial when it comes to increasing on-site footfall and helping your development stand out from the competition. If your development is marketed externally with poor quality flags, it may come to the detriment of a potential buyer's opinion of you as a housebuilder and of your product.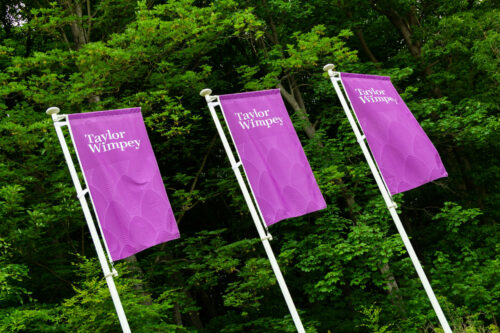 Creating a more professional and sleek  appearance for our site will instantly have a positive impact on a visitor's impression of both you and your development – and the use of quality housebuilder flags and flagpoles can play a crucial role in this.
Utilising flags can also help improve your customers' experience when visiting the development. Having showhome flags to direct buyers to the site entrance, and wayfinding flags to point to the direction of the sales office or other points of interest, can make it easier for target customers to navigate their potential new neighbourhood. All of this helps to create a better experience build an excellent first impression of your brand.
Going bespoke to meet your requirements 
It's safe to say that no two housing developments are the same. Ranging size and location, as well as the differing stages of the build process, the marketing tools you may  use to promote your development are likely to have varying requirements. This means opting for a 'one-size-fits-all' approach when it comes to choosing your flags may not be the best route to take.
That's why bespoke quality flags are key. Whether it's branded feather flags to signpost customers to the development from nearby road connections, showhome flags customised to offer details on a specific home, or a selection of banner flags or feather flags to act as wayfinding tools around your development, having a range of bespoke flag solution can help enhance your marketing. You may even choose to go for the larger flagpole selecting eight metre poles instead of six for added visibility.
A robust product to withstand the elements
Any housebuilder flag and flagpole will spend the entirety of its lifespan outdoors, meaning it'll face the very best of what Mother Nature has to throw at it.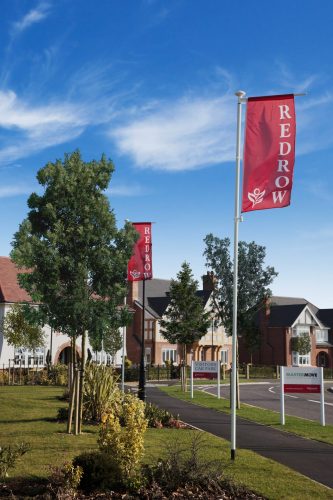 That's why it's important to invest in the strongest and thickest poles in the industry. At Harrison EDS, we have a range of flagpoles specifically designed for housing developments. If you're looking for a standard 6 metre pole, our step-tapered pole provides extra strength and durability, perfect for coastal areas and windy locations.
For a more luxurious option, we have our 'executive' flagpole range available in 6 metre length which tapers from 100mm to 65mm and helps to create a prestigious feel for your development.
Lower quality flag and flagpole solutions may quickly become weathered and damaged due to the conditions it's exposed to, in particular over the winter months. It pays to invest in super strength poles that offer a longer lifespan and are designed to withstand the outdoor elements.
 All of our flagpoles meet Eurocode and ISO 9001 standards and are rigorously tested to ensure they're of a high enough quality to perform in adverse conditions. Our showhome flagpoles come with a 2.5mm wall diameter, complete with a heavy-duty 34mm diameter swivel arm mechanism, allowing it to withstand windspeeds of up to 85mph when unflagged.
Supporting your sustainability credentials
With emphasis being placed on all companies, including housebuilders, to action positive environmental, social and corporate governance (ESG) plans, using sustainably sourced materials for your development marketing products is becoming increasingly important.
Harrison EDS offers solutions that enable our clients to deliver on their sustainability strategies whilst still maintaining excellent levels of product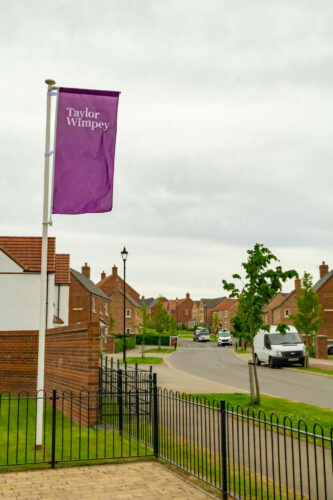 quality, and have pioneered our very own range of environmentally friendly products, Harrison EcoTM, which includes a range of banners, scrim, flags and displays which are made from recycled materials, and many can be recycled or upcycled after use.
 Our revolutionary material is made from recycled plastic items, including single-use PET plastic bottles and industrial polyester waste that would otherwise be sent to landfill. The plastic is processed into a yarn which is then formed into our material, Harrison Eco™, which can be used as a sustainable option for a selection of our print products, including flags and feather flags.
Harrison Eco™ has the same durability, strength and versatility of its knitted polyester equivalent, but with a much lower environmental impact, creating 75% less CO₂ emissions than virgin polyester in production. It also meets the requirements for the OEKO-TEX® 100 standards and is free from toxic elements.
Utilising quality housebuilder flags as a key marketing tool
To ensure your housing development has exceptional outdoor marketing and is easy and attractive for potential homebuyers to find and explore, having high-quality flags and flagpoles is a must. Not only that, but opting for high-quality environmentally-friendly flags – which offer the same strength and durability as a polyester equivalent – can also help bolster your company's sustainability agenda.
At Harrison EDS, we offer a comprehensive range of flagpoles and flags to enhance the marketing of your new-build housing developments and have worked with industry leaders, such as Taylor Wimpey and Redrow. We're also proud to be a Constructionline Gold accredited supplier.
 Learn more about why we're the UK's leading flag and flagpole provider for the housebuilding industry, and browse our selection of environmentally friendly solutions in our Harrison EcoTM range.