Dear customers,
As we approach the seventh week of national social restrictions, we wish to let customers know that Harrisons are open for business and here to support you as and when you need us. And we want to point out that we continue to follow guidelines on social distancing, placing the safety of our staff first, with smaller teams in our factory and warehouse and staff working from home where possible.
During this quieter period, we have focused on ensuring levels of our standard stock are in good shape, so we can be confident we can fulfil orders now and in the future. As a UK manufacturer we have not been affected by supply chain issues and have a large stock holding ready to be dispatched nationwide on our standard delivery terms, whether that be on flagpoles, flags, feather flags or accessories.
We have also been fundraising for the NHS, producing a range of flags and banner that allow businesses and communities to show their support to our beloved health service. To date, we have raised in excess £1000 and we are in the process of launching several new items to raise even more funds. The response from customers has been fantastic. So, to those who have partaken in this campaign, we wish to say thank you.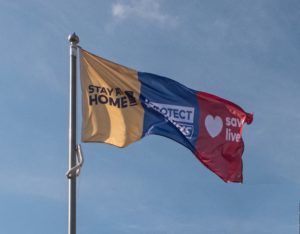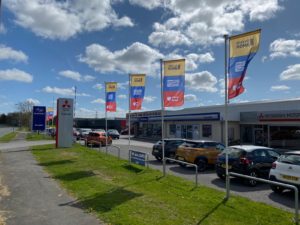 Click here to view our charity NHS Flag.
From 1st May we also began producing scrubs for our local NHS Trust, more information on this story coming soon.
We will continue to stay in contact with you all, but in the meantime if you have any questions regarding our products or services you can call our Customer Care Team on 01325 355 433 or email us sales@weareharrisons.com.
Stay safe and best wishes from everyone at Harrisons.
Harrison's Customer Care Team