Construction sites can often be considered unsightly but using the site to its full potential offers you many opportunities to build your brand profile and raise awareness of your future development, helping you stand out from the competition and increase your visibility to prospective buyers.
Here are some options to consider when branding your site:
The Site Perimeter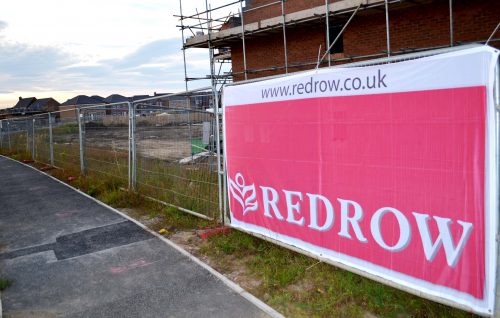 Housing development sites are often situated next to main roads with lots of activity and in the larger developments you may be sandwiched in between other housing developers trying to do the same thing as you – sell their future properties. Utilising all available space helps to catch the attention of motorists and passers by as well as strengthening your brand through maximising exposure and creating more opportunities to see. Consider Heras fence scrim for any safety fencing you have around the site; adding messages to encourage traffic to your website or directional messages to inform visitors of the site layout or encourage show home visits, for example, can all help you stay ahead of the competition. Our scrim is available as individual panels or as a continuous roll and comes in a variety of heights to suit your individual needs. Find out more about our Heras fence scrim here.
To create a more prestigious feel for your brand, add our housebuilder flagpoles and housebuilder flags to the site boundary and the entrance of your site. Adding flags and flagpoles creates instant impact as well as adding branding at height. By using a complimentary display across your flags as well as your Heras fencing panels and other branded materials,  you are helping to differentiate your brand amongst others.
Speak to us about our housebuilder flags and flagpoles and our specialist installation team, or find out more here.
On Your Site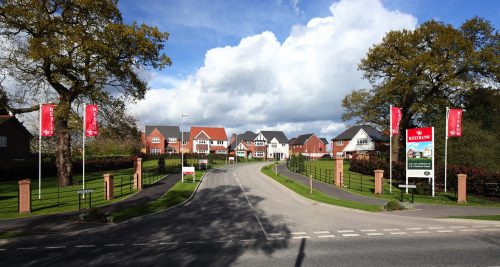 Your perimeter branding has done it's job and potential customers are now entering your site, offering you even more opportunities to engage with your audience. We have a number of different branding options available for your site, whether you're at the early stages of development or your site is almost complete.
Our container flagpoles are perfect for those early stages, giving you a high impact branding option that will help distinguish your brand right from the outset. Our container flagpoles have been designed in-house by our team of experts specifically for the construction and housebuilder industries and can be used as additional branding and to signpost visitors to key areas of your site.
We also have a range of temporary signage options for your site. Both our Correx and Foamex boards are durable, lightweight and waterproof meaning they are suitable for indoor and outdoor use. Correx can be used for freestanding branded temporary signage and Foamex is perfect for using on lampposts, walls or attaching to railings. We are also delighted to offer environmentally friendly options for all of your temporary signage needs. Bubble Board is our environmentally friendly alternative to Correx and is made from up to 25% recycled content, is fire resistant and is 100% recyclable at the end of its life. Bubble Board will not bend or crease and is chip and mark resistant, helping to maintain a quality display on your site.
Foamline is a PVC free alternative to Foamex. Not only is it more environmentally friendly, it is 25% stronger and 30% more rigid than Foamex, as well as being scratch resistant to keep your graphics looking their best. It is also 100% recyclable.
PVC banners are also a great cost-effective option to consider when helping to build the profile of your brand. Our banners come hemmed and eyeletted as standard and are available in a range of sizes, allowing you the opportunity to really shout about your brand and any key messages you want to promote and guaranteeing you visibility from visitors and passers-by.
Site Office/Marketing Suite
On most new housing developments you'll see a marketing suite, often located near the entrance to the site and close to the show home(s). The marketing suite may be the first contact a visitor has with your site and your staff and it's essential it looks it's best. Our Bravura range of portable displays are lightweight, easy to transport and come in a range of sizes to suit the size of your space. Our Fabric Display Stand is quick and easy to assemble and offers a better alternative to the roller banner, helping you to make an impact with high quality graphics. Unlike a roller banner the print is double sided and can be easily replaced on the sturdy re-usable hardware, offering a longer service life, more options for your brand and a longer-term cost saving.
We also have a wide range of indoor and outdoor display products that are suitable for housing developments, including high quality, attractive crowd barrier options and feather flags available in a variety of sizes with different base options.
For assistance in branding your site or to speak to us about our products, please call our team on 01325 355433.