Darlington based company Harrison Group have come up with an ingenious way to repurpose waste material that is making dogs bark with delight. 
Their dog toys made from waste flag and printed material are proving a huge hit with canines big and small. Every year the company prints and sews thousands of metres of branded scrim for events such as the London Marathon, as well as fabric display stands for exhibitions and flags for homes, businesses and landmarks across the UK. In the past, once it had been used this fabric would have been part of the 895,000 tonnes of textile waste that enters landfill each year. With the aim that 100% of the fabric they print is recycled or upcycled Harrison Group recently launched a fabric upcycling scheme. The scheme will see their customer's used printed products and their waste material being turned into useful items such as shopping bags and dog toys by their in-house skilled seamstresses.
The dog toys have proved a big hit so far. The intricate plait of toxic free material stands up to even the most destructive dogs. One happy owner, Dawn, said,
"My Otis absolutely loves his toy and I do too. Normally he rips toys apart within minutes but this one has stood up to his boisterous nature. It's great that it is made from waste material. I feel like I am doing my bit for the environment too."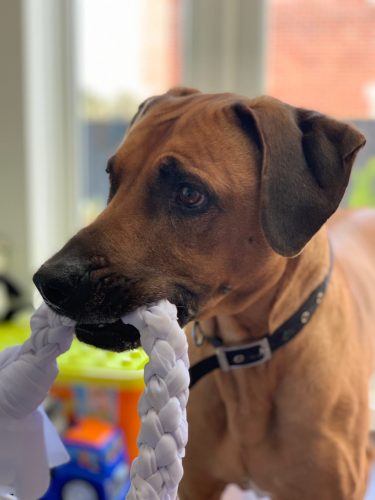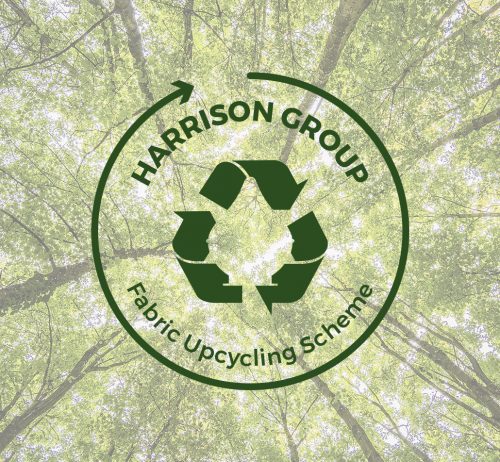 The toys will also be donated to local dog rehoming centres and charities such as FLOOF (For The Love Of Our Frenchies) throughout the year or sold to the public for a small donation as part of the company's CSR policy. The fabric upcycling scheme forms part of a larger commitment to sustainability by the Group which consists of Harrison Flagpoles, the only UK manufacturer of flagpoles, Harrison EDS who specialise in quality marketing displays and Harrison Creative, the event branding experts. They pride themselves on considering the full environmental impact of the products they sell and aim to reduce, reuse, repair, repurpose and recycle whenever possible. They have worked hard to develop and source a range of environmentally friendly products including Enviroflag™ ,a flag material made from recycled plastic bottles, fabric displays stands made from recycled materials that can be reused and then recycled at the end of their life and environmentally friendly alternatives for temporary signage and event branding.
Commercial and Operations Director Simon Lunt commented:
"We have a strong heritage as skilled manufacturers and aim to constantly challenge ourselves to improve. The need to live and operate more ethically and environmentally friendly is becoming more and more important. I believe green initiatives should form part of every company's strategy and I am very pleased that Harrison Group are at the forefront of the Green movement".